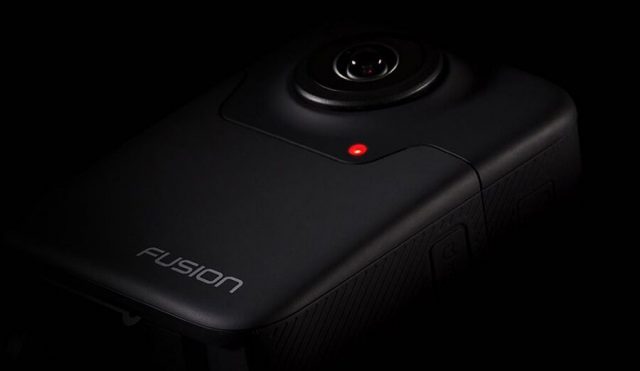 GoPro is one of those few companies that has truly earned the tag of an innovator in consumer electronics with its broad range of exotic cameras. However, it has so far struggled to capitalize that for success. It's latest offering- GoPro Fusion, a 360-degree camera for the consumer market may not be a groundbreaking product but does have that fresh feeling that GoPro is known for. This isn't first of its kind by GoPro as the company already has a range of 36-degree camera solution for professionals and this launch is particularly aimed at the consumer market.
Hardware
First and foremost, the gadget does look like a GoPro- compact, minimal, and sturdy. The outer rubber texture makes it comfortable to hold and having only two buttons isn't only for a neat look but also means minimum accidental shots. You also get a tripod-cum selfie stick that comes handy more often than you think. To prevent the lens from the scratches, a semi-hard case is also included in the package.
Features
It houses two lenses to capture 5.2K videos at 30fps and can take 18MP spherical pictures and even capture 360-degree sound. It is waterproof for up to 5-meters and is equipped with connectivity options like WiFi, Bluetooth, GPS and a host of other sensors.
Performance
The good
To put it simply, GoPro Fusion delivers fantastic 360-degree videos; unarguably the better than any gadget of its category. They turn out to be sharp, vibrant and with little noise- a combination that most of the other cameras are yet to achieve. It is also simple to operate and can be paired with other devices, at least the handful of those it supports.
The bad
While the videos are fantastic, the images are on the mediocre side. Much of the details are lost and color saturation seems a bit blown out. There are other options on the market that deliver better results at the same price point. Another slightly disappointing aspect is its underwater performance. The device is waterproof up to 16ft/5m, which means you can use to capture videos while surfing or in the pool but will have to leave it behind when you go diving. The underwater video quality too isn't that impressive but is on par with other such cameras.
The ugly
OverCapture is one of the key selling points of the camera that lets you play around with your videos on the desktop or mobile application. Yes, the feature is very impressive and promising but at this point, feels like a beta version at best. It is painfully slow and keeps crashing if you don't happen to have the most high-end of the systems. Plus, the Android support is yet to be introduced and even the features supported vary on different Apple devices, making it useless for a large number of customers at this point.
The verdict
GoPro Fusion is a gadget in a segment that still is in its nascent stage- which is both good and bad news. Bad, because it will have to overcome many reservations and generate organic interests but that also means the scope for refinement is immense. Also, most of the unimpressive things we have talked about are software issues that will likely be fixed over time.
So, if you are out in the market to get a 360-degree camera, the Fusion isn't ready yet. But if you can wait for some update cycles, it is worth every penny of those $600 you will spend.