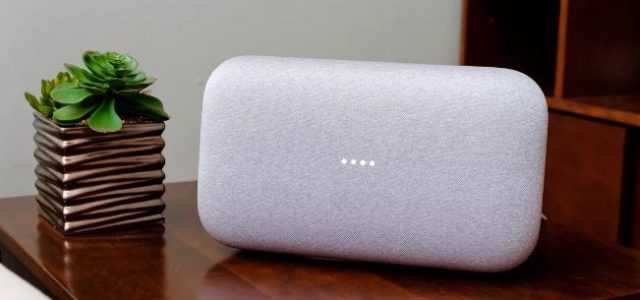 With over 100 million units sold and impressive YoY growth, it is certain that smart speakers are no longer just a fling for nerds but are on their way to the mainstream market. But before they can reach every household they would have to clear one crucial barrier. For all the audiophiles out there, being smart isn't enough unless a speaker also sounds good. It is perhaps to cater to that audience that Google released Google Home Max- the biggest of its smart spear lineup.
Related: Google Home Hub Review
Google Home Max First impression
When you first look at the Google Home Max, you'd notice a striking lack of all bells and whistles we have come to expect from a modern gadget. There is no fancy ring or unique design or any distinctive feature that would catch your eye. But it is exactly this lack of style, the refusal to try too hard to be stylish that puts it in a class of its own. The laid-back design approach works extremely well and helps the speaker blend into virtually all kinds of interiors.
Then if you pick it up, you'd know it is called "Max" for a reason. At 5.3 Kg, it is not the lightest of portable speakers around but to be fair, it is not the heaviest of its class either. Mindfully, it comes with a magnetic stand that keeps the speaker comfortably in both horizontal and vertical orientations.
Since it uses touch controls, there isn't anything else you would find on the speaker except for the ports and a microphone toggle button neatly placed at a corner on the backside.
Google Home Max Performance
In the simplest words- the Google Home Max doesn't disappoint when it comes to sound quality. In fact, it sounds better than many speakers from the acoustic titans like Bose or JBL. The speaker is loud, clear, and easily highs and lows without missing them together. For what it's worth, the speaker is well capable of keeping a small party going.
Now if you add to that the capabilities of Google Assistant, the Home Max easily sprints ahead of both Apple's HomePod and Amazon's Echo. Yes, owing to its design choice the speaker doesn't offer 360-degree sound but the sheer amplitude more than compensates for that shortfall.
Google Home Max Price
This perhaps the biggest downside of Home Max- it costs a lot. At $399, it's priced well above Apple's HomePod but to be considerate; it's a much more powerful speaker than it as well.
Verdict
If you don't mind the price, there is absolutely nothing to complain about the Google Home Max. It does exactly what it is supposed to do- it houses one of the smartest digital assistants and it delivers one of the finest quite quality.