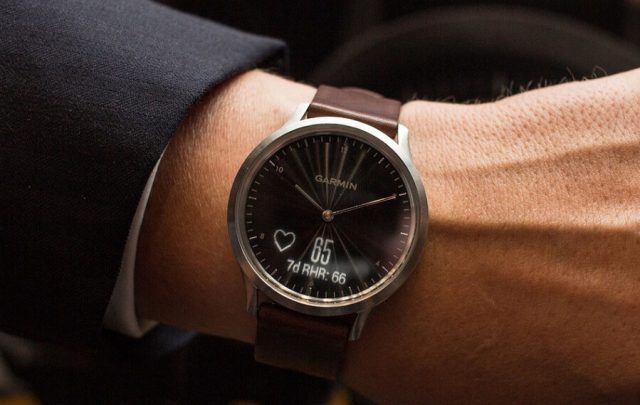 There are two types of people in the world- the ones who sport smartwatch and the others who prefer a good old analog timepiece. But this is actually an outdated notion that was coined in the earliest days of smart gadgets.
Times have transformed and become smarter. The general trend we see today is that people prefer both- fitness bands for tracking activity and classic timepieces to go with the suit vis-a-vis formal environments.
Garmin's latest offering- Vivomove HR is a bridge between the two. It is a minimalist classic-looking analog watch that shows its smart face only when you ask. The company has gone great lengths to make the device look like any generic watch while ensuring that it also achieves all the expectations of a smartwatch.
Design
As mentioned, the gadget looks ordinary at the first sight. The dial of 42mm is minimal with a neat face, and the plastic and rubber straps do not give much of a premium feel. Make no mistake, that is not a drawback but it's the USP of Vivomove HR- simplicity that blends in all environments. As for variants, the dial is available in two colors- brown and gold and black and white. Plus, there is a wide option of strap colors you can choose from.
Features
For starters, it shows time like any other analog watch. That's the classic part. Then if you double tap at the bottom of the dial, a secondary screen lights up. You can swipe the screen to get all kinds of information like calories burnt, step count, weather, notifications, and much more. Though you can read all your emails and messages, the screen displays only 3-4 words at a time. Otherwise, it does almost everything you would expect from any standard smartwatch.
For all we can see, the gadget falls short in two aspects- 1. It doesn't have a GPS inside and relies on accelerometer for all the tracking. 2. The battery life, lasting for around 5 days, can be considered mediocre.
Now, given that the device is already struggling with battery life and delivers reasonably accurate results, the lack of GPS won't be a problem for the casual users.
Priced at $170, Garmin Vivomove HR is indeed a decent purchase if you are looking for a new watch and want to make the most out of your investment.
Similar Posts: