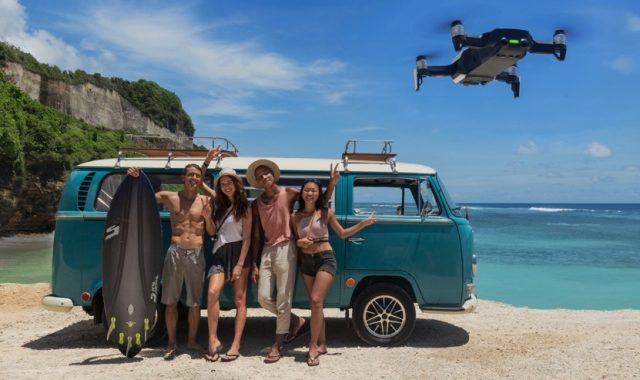 If they seem toyish to you, we'd like to tell you that building drones is a really tough job even if you want them to just fly in straight lines and takes pictures. In fact, the complexity of building them was really evident when GoPro- the company renowned for its miniature cameras, tried its hand in the domain and its drones started falling from the sky. The company obviously has now pulled out of the space but with DJI, it's a different story altogether. With its decade-long experience, the company has come a long way in building drones that are both impressive in design and usability.
DJI Mavic Air Review
The latest is the Mavic Air. The gadget is largely based on the design of Mavic Pro- launched last year and touted by the company as the bestselling drone of all-time. Though Mavic Air has been strategically placed to fill the void between its more expensive Mavic Pro and cheaper Mavic Spark, it manages to do the best.
Design
Mavic Air is an overall, compact quadcopter of the size of a pint. The propeller, flip-out arm, landing gear, all fit perfectly well to make it very stable during the flight, even in windy conditions. For controls, it comes with a joystick that you can easily connect with your iPhone or Android phone and use the companion app for all kinds of action.
Additionally, for a payment of $200, you can also get an extra propeller, a charging hub, a carrying case and two batteries- all of which will come handy when you are shooting outdoors. Also, the build quality of the drone seems sturdy enough to sustain a few minor crashes.
Functionally
First things first, it can stay airborne for 21 minutes and has a range of 2.5 miles- ample for most of the casual needs. Navigation through the joystick does come with a steep learning curve, especially if you have sent the drone far away and are using the onboard camera. However, the response is swift and is fun to use once you get used to it.
It can capture HDR shots, take 1080p videos at 120fps, and even has a slow-motion mode. Also, if you want to capture any unidentified aerial objects, you can use its ActiveTrack feature that follows an object once you have locked in on them. The most useful feature is perhaps the Quickshot– that takes the drone on a pre-specified trajectory to take amazing shots of the object/person at any given point. The six trajectories offered for now include helix, circle, asteroid, boomerang, drone, and rocket.
After you have done all the shooting, you can use the app to preview, extract or share the media in a very lucid way. Or you can also just take out the 8GB MicroSD card for direct access to all the raw files.
Final remarks
This is an impressive and impactful gadget. We bet you like it more than any other drone. Satisfying your several desires, it can be a pretty nifty toy to play with, can be used for casual photo and videography and even make a valuable addition to the gear of semi-professional photographers. But we're a little uncertain if you'd want to invest as much as $799 (plus $200) for this one. We hope Mavic Air makes a hit this year, if not more buyers.