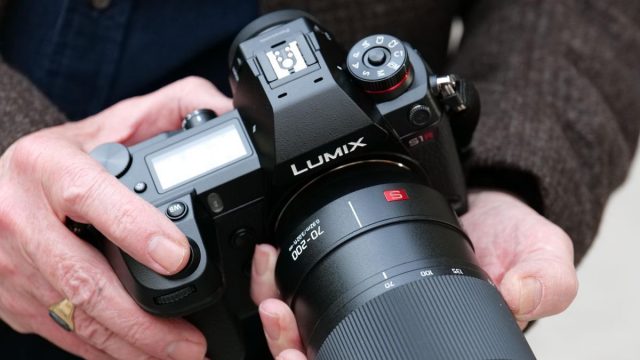 Panasonic hasn't traditionally been recognized as a top-tier camera manufacturer and while it has gained significant ground in certain niches like Four Thirds and Micro Four Thirds, it still is no match for players like Sony and Nikon. Panasonic, it seems is out to change that at least in the full-frame segment. Within months after the camera titans Nikon and Canons launched their respective products in the segment; Panasonic too announced its Lumix S series and has now launched two of its variants- Lumix S1 with 24.2MP full-frame sensor and Lumix S1R with 47.3MP full-frame sensor. It's the latter that we would be talking about here.
The 47.3MP sensor we mentioned about earlier isn't something borrowed from any previous models and as it seems has been freshly designed. The L-mount lens generally takes pictures of resolution 8368 x 5584 but if you want, you turn on the High-Resolution Mode to get pictures at a staggering 187MP resolution. But of course, that would also deliver equally large files. Here are the detailed core specifications of the camera:
Spec sheet
Size: 148.9 x 110.0 x 96.7mm (body only)
Sensor: 47.3MP full frame CMOS
Viewfinder: OLED EVF, 5.76m dots, 100% coverage, 0.78x magnification
LCD: 3.2-inch tilting touchscreen
AF points: 225-area DFD contrast AF
Video: 4K UHD at 60p, 50p, 30p, 25p, 24p
Max burst: 9fps, 6fps with CAF
Memory card: SD (UHS II compatible) + XQD
Connectivity: Wi-Fi, Bluetooth
Weight: 1,016g (body only, with battery and SD card)
Given a kilogram of weight with a boxy design, the camera despite having an excellent built quality is tough to handle at times. Even a few buttons seem clunky. But perhaps the biggest shortfall of Lumix S1R is its slow autofocus that might be a deal breaker for some photographers. It's not painfully slow but its certainly slower than what you would expect from a camera at this range.
See More: Top 5 DSLR Cameras under 30000
Beyond that, the camera delivers superb images with utmost clarity and sharpness. The 4K video shooting is also and smooth and captures the full spectrum of details. The battery life too isn't something to boast about but isn't that bad either.
Verdict
To put in quantitatively, the Lumix S1R shines three particular aspects:
Excellent viewfinder
Excellent detail and stabilization with little noise
Excellent built quality
That said, it does come with its own set of flaws including:
Bulky design
Not so perfect Autofocus
Now if take into consideration all the above factors and compare it against its price tag of around $3.5K (body only), it may not seem to offer the best value proposition but certainly remains the best in quality. Since these flagship cameras tend to have long lifecycles, we can certainly expect the price to come down in coming months and then it would be an ideal purchase.