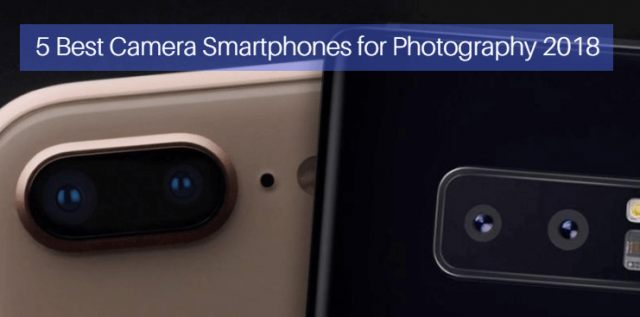 In this article we are going to discuss about the Best Camera Smartphone for photography in 2018. Pick any Android flagship and you will see that all of them run on the same processor, have similar display, memory, and virtually everything there is about a smartphone. Yet they are different, particularly in three domains- the design, the skin, and the camera. While the previous two are more about personal preferences, the camera quality remains one of the key distinguishing factors.
See More: Upcoming Smartphones 2018 in India
So, until we have that 5-camera phone from Nokia, these are the best camera smartphone for photography with best camera capabilities:
Best Camera Smartphone for Photography in 2018
Xiaomi Mi 5S – Best Camera Smartphone
Xiaomi Mi 5S android smartphone from Xiaomi was announced in Sep 2016. The Xiaomi Mi 5S is known as best camera smartphones for photography. Talking about its camera configuration, it comes with the new 12MP Sony IMX378 sensor. It offers excellent camera performance and details sharpness as smartphone it featured with extraordinary camera phone ever.
Huawei P20 Pro – Best Camera Smartphone
No, this is not a mistake. Not Google, not Samsung, and not even Apple for that matter currently offers the best camera on their smartphone. It's the Chinese giant Huawei. In fact, the reputed camera reviewer DxOMark has given it the highest rating for any mobile phone camera ever. Packed with 3 Lecia lens- 12MP RGB (40MP on Pro) and 20MP monochrome sensor combo for dual-lens setup and an 8MP Telephoto lens, the phone simply delivers the best results in all light-environments and setups.
Camera Details
Triple-lens setup
40 MP (f/1.8, 27mm, 1/1.7″, OIS) + 20 MP B/W (f/1.6, 27mm) + 8 MP (f/2.4, 80mm)
3x optical zoom
Laser autofocus
LED flash
24 MP, f/2.0, front-camera
See Also: Top 5 smartwatches under 5000 in India 2018
Samsung Galaxy S9 Plus – Best Camera Smartphone
Samsung's S-series always packs the best of what the company has to offer. And with S9, the company hits a new high in terms of camera quality- with some reviewers even putting it ahead of Apple's flagship- iPhoneX. With dual-camera setup and an exceptionally good OIS and focus- receptive to even minor shakes and light conditions, the camera delivers stunning shorts- often on-par with professional photography.
Camera Details
Dual-lens setup
12 MP (f/1.5-2.4, 26mm, 1/2.55″, 1.4µm, Dual Pixel PDAF) + 12MP (f/2.4, 52mm, 1/3.6″, 1µm, AF)
2x optical zoom
LED flash
8 MP, f/1.7, front-camera
Google Pixel 2 – Best Camera Mobile
When Google initially launched Pixel, its camera was largely hailed as one of the best ever. And even now, it is the only flagship that relies on a single lens and yet has a spot among the top. Admired particularly for its low-light shots, the camera of Pixel 2 makes a worthy gear for all mobile photographers.
Camera Details
Single-lens setup
12.2 MP (f/1.8, 27mm, 1/2.6″, 1.4µm, Dual Pixel PDAF)
Laser autofocus
Dual-LED flash
8 MP, f/2, front-camera
Xiaomi Mi Mix 2S
Announced last month but yet to hit the selves, this mid-range phone from Xiaomi packs a premium punch when it comes to camera quality. The dual lens setup with 4-axis optical image stabilization has shown to deliver exceptionally good pictures with all the right textures and exposure.
Camera Details
Dual-lens setup
12 MP (f/1.8, 1/2.55″, 1.4µm) + 12 MP (f/2.4, 1/2.9″, 1.0µm)
2x optical zoom
4-axis OIS
dual-LED dual-tone flash
5 MP, f/2.0, front-camera
Samsung Galaxy Note 8 – Best Camera Mobile
The oldest device on this list, Galaxy Note 8 still has one of best cameras in the market. If we put aside the video capabilities, the photographic performance of this device was rated even higher than that of Pixel 2. Plus, given that the device is now a bit old, you have the additional benefit of picking it up at a bargain.
Camera Details
Dual-lens setup
12 MP (f/1.7, 26mm, 1/2.5″, 1.4µm, Dual Pixel PDAF) + 12MP (f/2.4, 52mm, 1/3.6″, 1µm, AF)
2x optical zoom
LED flash
8 MP, f/1.7, front-camera
OnePlus 5T – Best Camera Phone
The Chinese handset manufacturer, OnePlus is known for best camera smartphone in the world. Its products are developed by a high quality MP camera. Talking about the OnePlus 5T, it is featured with a dual camera.  Both cameras have the same focal-length and f/1.7 aperture. The 'main' sensor is still 16-megapixels, but those pixels are much bigger than the pixels in secondary 20-megapixel sensor.
Camera Details
Dual rear cameras: 16MP + 20MP Sony sensors
Front camera : 16 MP
Revamped camera app for easier one-handed use