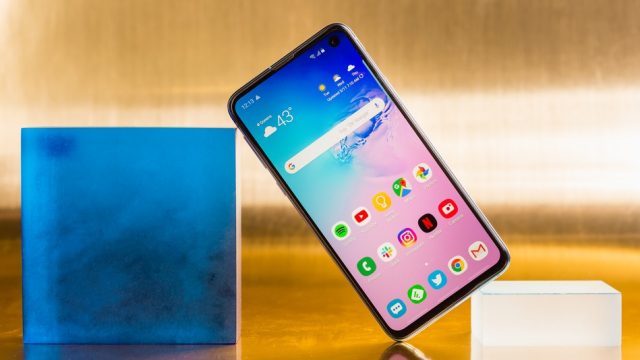 Samsung, with its launch of first foldable screen device, was the darling at MWC 2019 held earlier this year. And though much of the attention was stolen by then one of its kind Galaxy Fold, it was also the event where the company launched its line of latest flagships- Galaxy S10. As is the trend these days, there wasn't one flagship, there were three- Galaxy S10, Galaxy S10 Plus, and Galaxy S10E.
Design
The first thing you notice when you hold the device is its sleek and lightweight buildup. The phone is noticeably smaller than iPhone XR and for those with small fingers is going to pretty easy to handle. There also a few subtle design changes like the fingerprint scanner is placed on the power button. This may take a while to get used to but ultimately is as convenient as the home button. Also, the display punch notch in the corner is a rather new design approach that seems to have already acquired a large set of fans and critics
Hardware
This is the most interesting aspect of this device- despite having a considerably lower price tag; the company hasn't cut many corners in terms of specs. For instance, Galaxy S10E features the same primary camera that you find in Galaxy S10 or S10 Plus. Similarly, all the three devices are powered by the same Snapdragon 855 chipset- the latest from Qualcomm.
But that doesn't mean the differences lie only in size. The display of S10 and S10 Plus, for instance, are better than S10E. Also, the Galaxy S10E has a rather smaller battery as compared to its other two variants. Beyond these, there are hardly any differences that you would notice. Check out the detailed spec sheet below:
Spec Sheet:
| | |
| --- | --- |
| Specifications | Samsung Galaxy S10E |
| Dimensions | 142.2 x 69.9 x 7.9 mm |
| Display | 5.8-inches |
| Resolution | 1080 x 2280 (438ppi) |
| Chipset | Snapdragon 855 |
| Memory | 6/8 GB |
| Storage | 128/256 GB |
| Primary camera | 12 MP + 16 MP |
| Secondary camera | 10 MP |
| Battery | 3100mAh |
| Price tag | $750 |
Should you buy one?
If you recall, Apple's attempt at offering a lite flagship through its iPhone XR was a big failure. The key reason was that it stripped too many features from iPhone XS that customers simply didn't find iPhone XR worth buying. Samsung has clearly avoided that mistake. Priced at $150 less than the Galaxy S10, the device offers almost the same set of features. This means if you are out to buy a top-tier phone and prefer a smaller form-factor, S10E won't disappoint you.