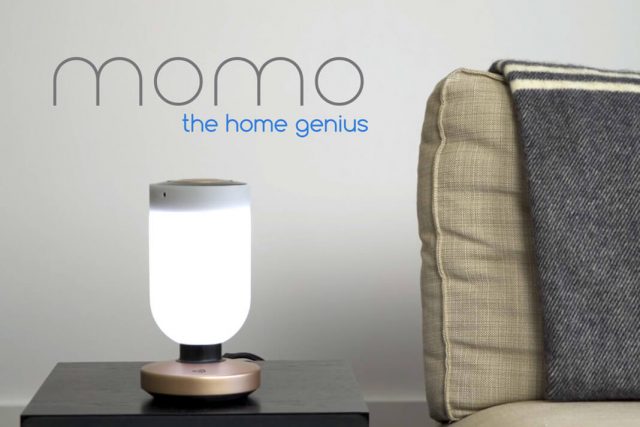 With the aim to lead the pack of smart-home assistants, a startup from LA, Morpheos comes up with a masterstroke that's an all-in-one home device. With zero complexities while installation, the device can serve as a smart home hub, a standalone security system and an intelligent assistant powered by artificial intelligence- everything in a timelessly designed stylish lamp.
The Momo Smart Lamp is intelligent enough to control devices such as Google Home, Nest, Amazon Echo and Philips Hue, though it has its own voice activation. Plus, it has a camera element with facial recognition feature and gesture control feature that enables the user to tweak the lamp's brightness through gestures. Put your hand over the lamp and as you raise or lower your hand, the system responds and the brightness varies accordingly.
It already impressed you, right?
But adding to its extraordinary capabilities it sports sensors at its base that keep a regular check on CO2, humidity and temperature levels and has microphones and speakers too.
The majority of the features are similar to what we see in other popular smart-homes hubs, but what make it stand out is the implementation of artificial intelligence.
"The artificial intelligence would allow the lamp to learn your habits over time and react accordingly. This means that when Momo has learned an activity the user performs with a certain degree of consistency, they will suggest the 'automation." said EdoardoScarso, founder and CEO of Morpheus.
"To simplify, it may be turning on the kitchen light in the morning, and then the electric kettle. This combination of events at a regular time on Mondays to Fridays creates a behavior."
If you want to purchase this smart assistant, you can get it from Kickstarter for $279, which is way lower than its eventual price of $699. The hefty price certainly makes sense especially with those extra sensors and features that it houses- making it smarter than all the other contenders. The general public response is still awaited as it's yet to come out in the wild.
It makes a desirable choice for those who look for a device that's multipurpose, multifunctional, intuitive and comes with a rarity of being aesthetically attractive too.